Xylitol
---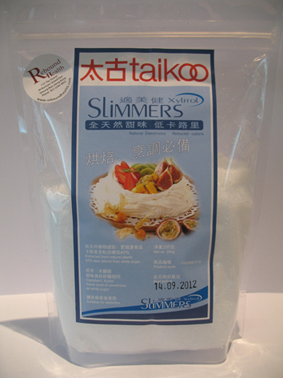 Xylitol is a sugar alcohol sweetener used as a naturally occurring sugar substitute. It is found in the fibers of many fruits and vegetables. It looks, feels and tastes exactly like white sugar with no unpleasant aftertaste.
Safe for diabetics; as it is absorbed more slowly than sugar and does not contribute to high blood sugar levels or "spikes" in the insulin levels.
Has 40% less calories and 75% fewer carbohydrates.
Particularly good in preventing tooth decay, and other bacterial infections.
Do not use in baking that requires yeast, for example baking bread. The xylitol will attract the yeast but then destroy it.
---