Vitamin C
---
Vitamin C is vital to the normal development and maintenance of bones,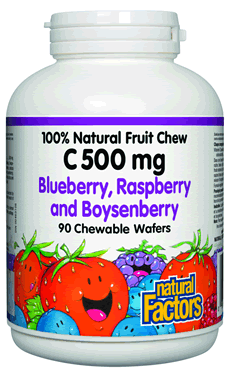 cartilage, teeth, and gums.
Natural Factors brand availabe in three flavours; blueberry/raspberry, orange, and mixed fruit.
90 chewable wafers, each contains 500mg of vitamin C.
Recommended 1 to 3 wafers per day, or as recommended by a practitioner.
For therapeutic use only.
Available at Rebound Health, Find us




---



In a base that contains: bioflavanoids, hesperidin, rutin, rosehips, natural sweetners, natural fruit flavors (blueberry, raspberry, boysenberry), natural color (red cabbage), citric acid, silica and vegetable grade magnesium sterate.